PerformanceInsight extension for Tableau helps all Tableau Dashboard creators and developers gain insight and feedback on performance optimizations of their dashboards. The best part: it's a free extension!
The best customer satisfaction is obtained when serving snappy high performing sexy dashboards to your customers/users. The flexibility and ease of use Tableau offers, sometimes makes you forget what happens under the hood. This neat extension helps dashboard creators and Tableau developers to gain insight into dashboard performance by taking an expert look into the engine.
Free
Free with limited features
–
Tableau Desktop
Tableau Server
Tableau Online
Always up to date
Requires internet access
Instant Download
Cloud based / 99% uptime
Support by ticketing system
PerformanceInsight: a free Tableau extension
We believe every Tableau Dashboard creator, beginner or expert, must be able to deliver good performing dashboards to their customers. With our passion for Tableau, we love sharing our knowledge to help as many enthusiasts as possible. We are proud to serve this extension for free!
So grab your copy of this neat solution right away and start building your high performing dashboards!
Why PerformanceInsight matters
Gain instant insight in dashboard performance (level A-G)

Receive clear advice for performance optimization

Check over 10 subjects of performance categories

Expert help just one click away

For beginner and expert dashboard creators / developers

Free extension – no cost at all

No programming skills – drag and drop

Reliable support – Tableau Gold Partner

Crafted with love
Ever wondered why your dashboard seems to lack performance?
Tableau Dashboard performance issues can be caused by a number of reasons. Using the Tableau Native performance recorder might give you some details on query performance but leaves you empty handed when it comes to tips on how to improve your performance. The PerformanceInsight extension guides you towards improving your performance instead of only measuring (bad) query performance.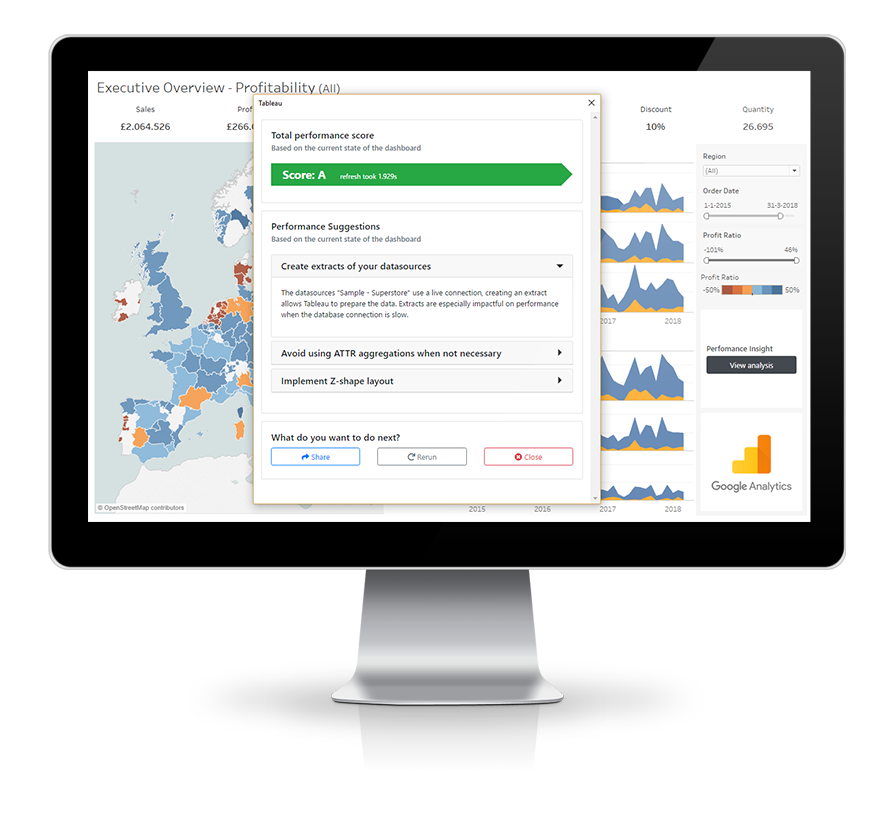 Enterprise
Billed Annually
Contact for info
Tableau Desktop – Tableau Server – Tableau Cloud
Always up to date
No internet access required
Personal Enterprise portal
On premise installation
Personal enterprise support

Secure on-premises solutions
All our products are secure as we comply with ISO 27001 and NEN7510. Your data and user access is secured under Tableau's governance. Our products are 100% secure on-premises or private cloud deployed and facilitate your workflow in Tableau, eliminating the need to move to external programs.