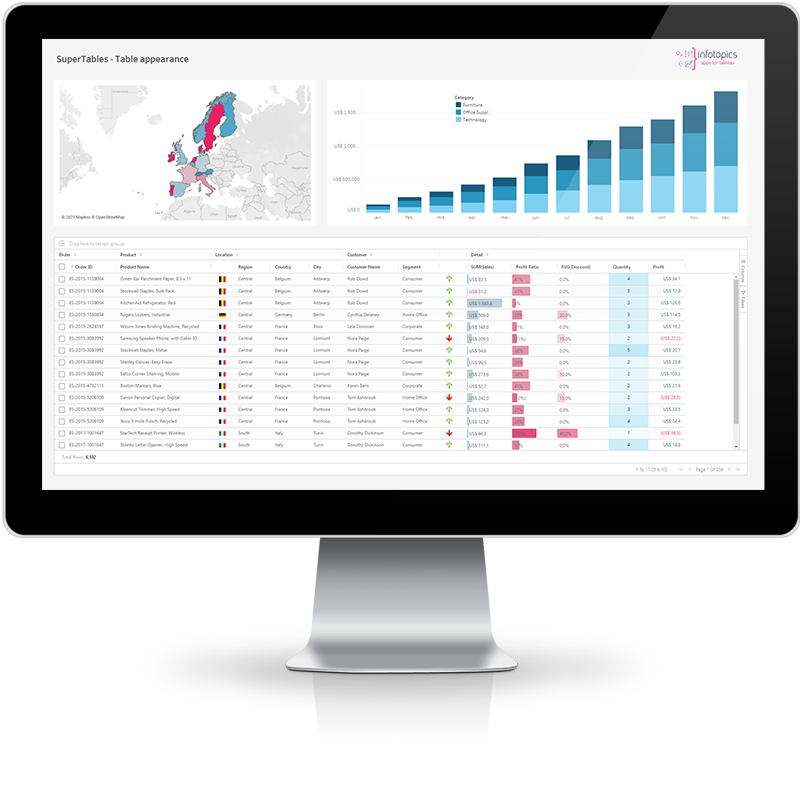 SuperTables
 SuperTables
Discover interactive Excel-like tables and allow users to decide how to organize their data!
"I have over a thousand users on Tableau, and we are still growing at a rapid pace. SuperTables, has made Tableau so much more accessible to people that are used to Excel and have raised their game for how they think about data and analytics in our company. Because it's so easy to use, even savvy business users are able to incorporate it in a matter of minutes."
Every now and then we all use tables in our Tableau Dashboards. You probably use them to create context boxes, drill down a simple hierarchy or add some other detail to your visualizations. Tableau Tables offer great general functionality but when it comes to custom grouping, ordering or pivoting for example they lack the power and freedom for the dashboard user (If you want to improve your dashboards and perform analytics even better, check our DashboardUsage extension).
With the SuperTables extension for Tableau, you can offer your dashboard users the power of interactive and dynamic Excel-like tables that allow users to decide how to organize and analyze their data in a flexible grid using the features just like in Excel without leaving Tableau! Enrich your dashboards with the SuperTables extension for Tableau and allow your visitors to do their own analysis with the summarized data of your visualizations.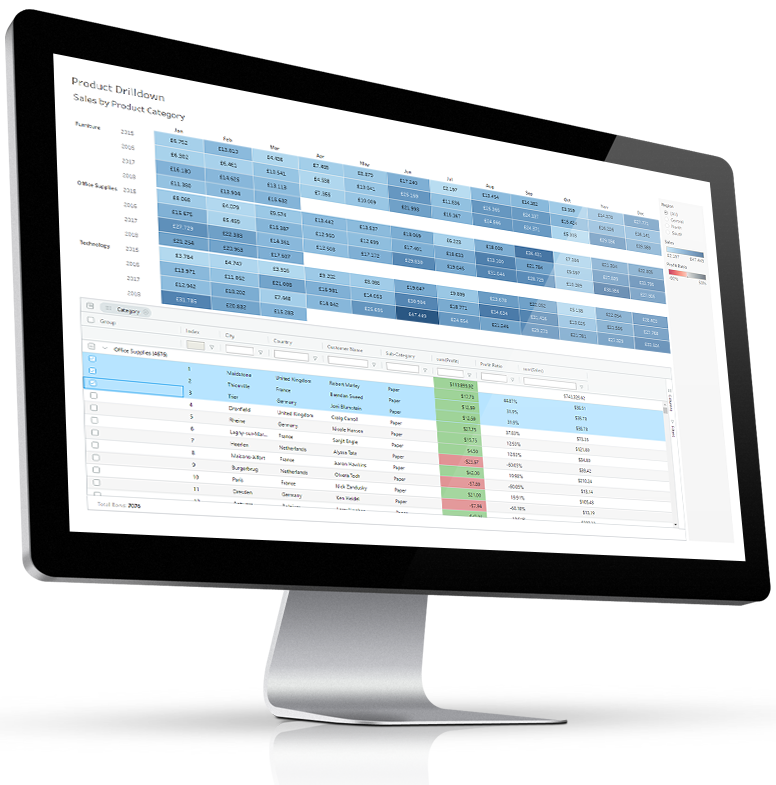 There is more!
Filter, Parameter and Highlight Actions
Conditional cell formatting
Header grouping
Prefix and suffix
Tooltips for headers
Using a table in your dashboard comes in handy if you want to provide your dashboard users with extra context on their visualization.  Drag the SupertTables solution to your dashboard, configure the data(sheet) to feed the table and provide your dashboard users with some amazing details. You've never seen a more powerful table!
Saving hundreds of hours a week by using SuperTables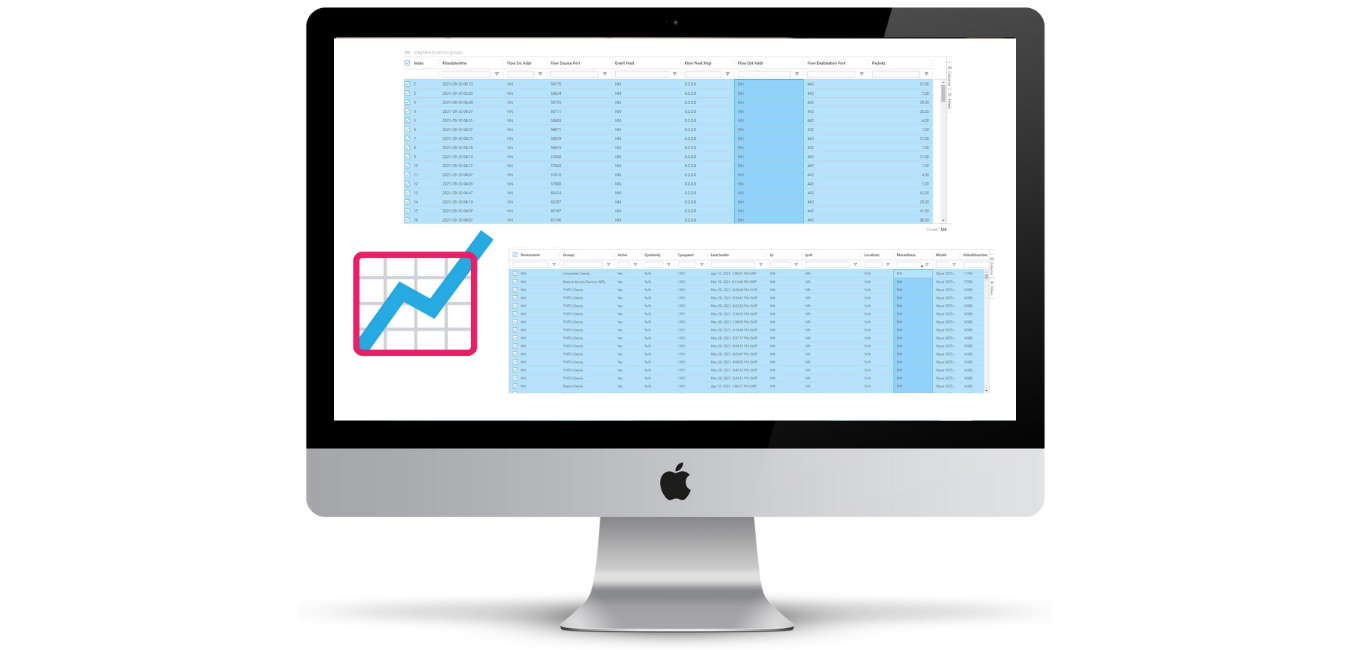 SuperTables brings a lot of value by reducing the number of dashboards that have to be created and maintained. For Mario, the data process became faster and hundreds of hours per week were saved by not constantly being asked to make a report or having to hire an expensive contractor.
Are you ready to turn the Tables?
Support
Our team is committed to your success with Infotopics | Apps for Tableau
Latest news
Free
Free with limited features
–
Tableau Desktop
Tableau Server
Tableau Online
Always up to date
Requires internet access
Instant Download
Cloud based / 99% uptime
Support by ticketing system
Share Cloud
Billed Annually
14 Day FREE Trial
Tableau Desktop
Tableau Server
Tableau Online
Always up to date
Requires internet access
Instant Download
Cloud based / 99% uptime
Support by ticketing system
Bronze: 0-50 Tableau users
Silver: 50-150 Tableau users
Gold: 150-300 Tableau users
More than 300? Contact us!
Enterprise
Billed Annually
Contact for info
Tableau Desktop
Tableau Server
Tableau Online
Always up to date
No internet access required
Personal Enterprise portal
On premise installation
Personal enterprise support

Enterprise-Ready Security
When company policy or IT security requires an on-premise installation / integration of the extension, we can help you organize it. This is particularly useful when your Tableau Server is not granted internet access, or you need to be in full control of the usage and management of your extension.
On-premise installations allow you to be in control of infrastructure, privacy, governance, and to comply with company policies. It also allows the installation/hosting of several individual extensions. Please contact us for more information regarding on-premise installation of our extensions.
Be in full control of your extensions

Respect data governance policy

Comply with company security policy

Installation support (remote)

Excellent operational support (Tableau Gold Partner)

Updates managed by IT

No internet access required
The extension doesn't work on Tableau Online/Server
Merlijn Buit
2021-09-27T15:57:59+01:00
Make sure the extension domain is whitelisted on Tableau Online/Server.
Webserver services content with proper X-Frame-Options and Content-Security-Policy headers.
Extensions feature is turned on, on Tableau Online/Server.
The Extension server/domain has a valid SSL Certificate.
Tableau Online/Server has access to the Extension Server to load the extension.
You can find any issues by doing the following: While running on Tableau Online/Server in the browser open the "console" tab in Chrome Developer's tools. To open the developers tools can be done via: Hamburger menu top right > More Tools > Developer tools. Refresh the page while the developers tools is open. Now you can see if there any issue while embedding.
Note: Tableau will show warnings with something like: 'cannot load source map' by default, these are not caused by our extensions. They can be identified based on the domain of the url that it warns with.
Make sure to follow our installation guide to setup the right configuration!
Common issues
CSP Header error or X-Frame-Options error.
Make sure the following headers are properly set:
X-Frame-Options: SAMEORIGIN
Content-Security-Policy: frame-ancestors 'self' *.online.tableau.com;
For Tableau Server *.online.tableau.com should be your domain.
Check all security headers with the following website: https://securityheaders.com/
Governed and Secure Products
All our products are secure as we comply with ISO 27001 and NEN7510. Your data and user access is secured under Tableau's governance. Our products are 100% secure on premise or private cloud deployed and facilitate your workflow in Tableau, eliminating the need to move to external programs.