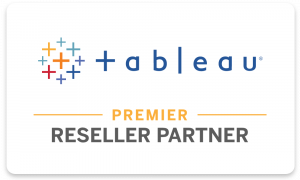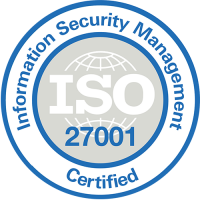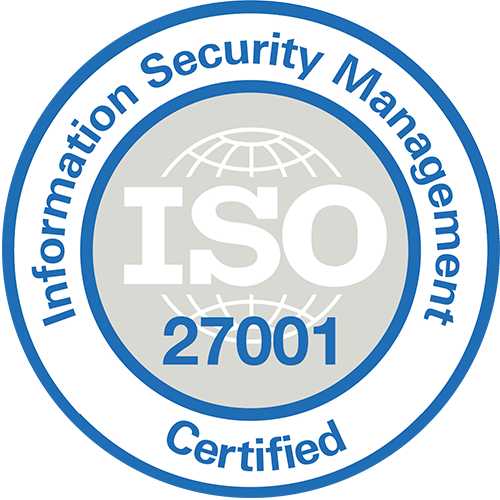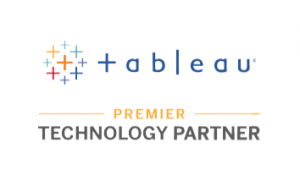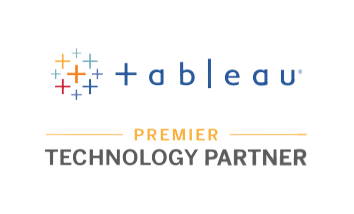 Embrace data analytics to navigate change
With the constant changes in the financial industry, it is vital to become a more data-driven organization. Data analytics helps to track important metrics, manage risks, predict marketing trends, and take key decisions for growth. Tableau is the best solution for data visualization, thanks to its high degree of self-service, data governance, security, and data source integration.
Now you can expand the value of Tableau with premium and secure Tableau Extensions!
Some of our valued customers
WriteBackExtreme is a premium Tableau extension that assists you in correcting and adding data to your dashboards and databases. With its functions, it is your best assistant in visualizing key financial analyses.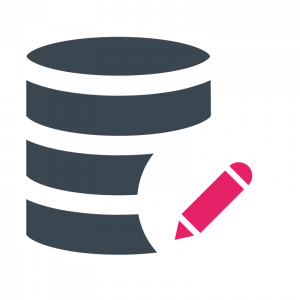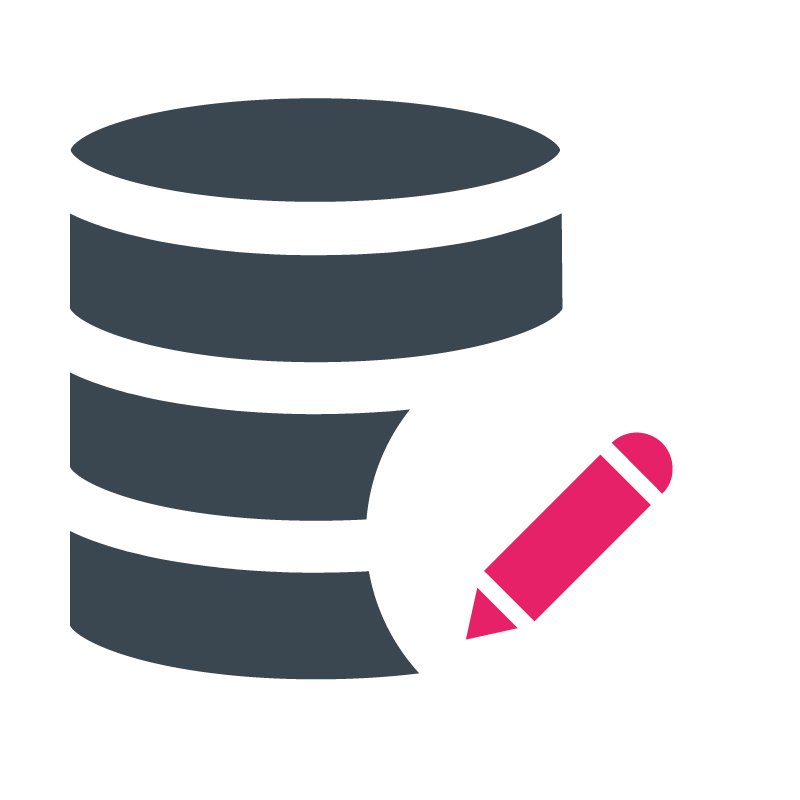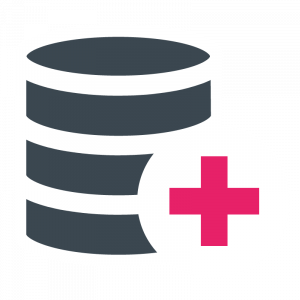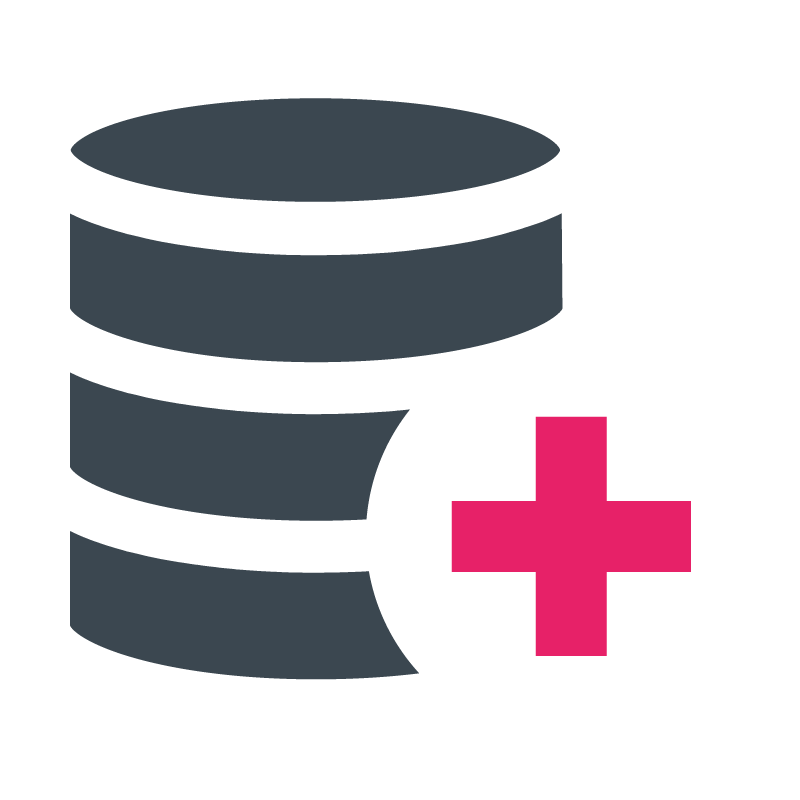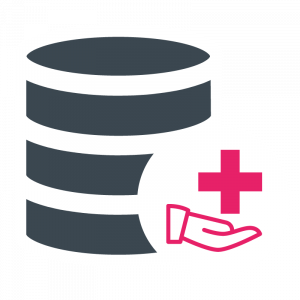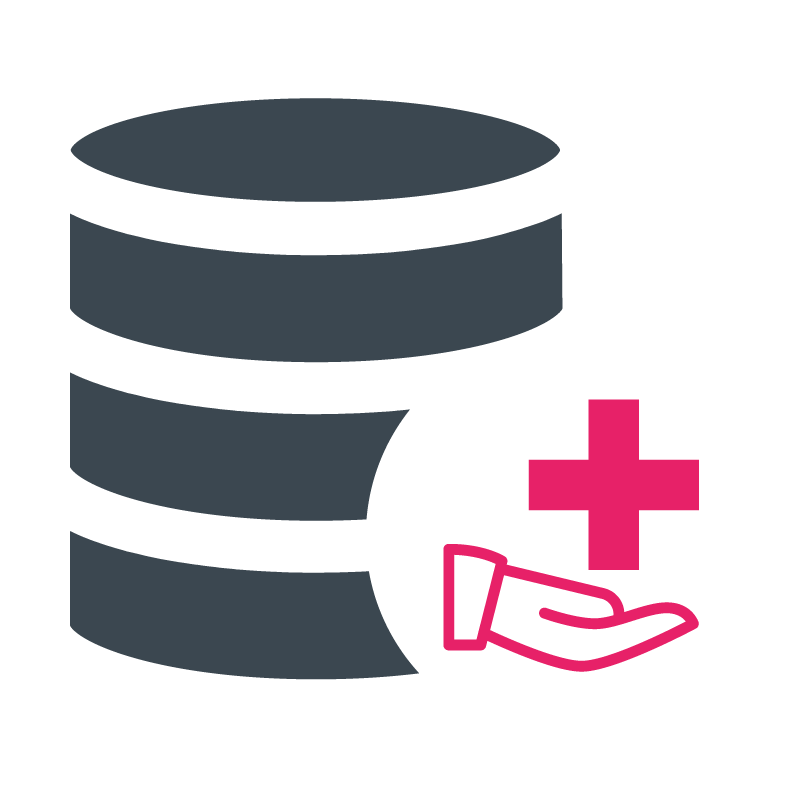 Forecasting & What-If Analyses
Do you need to create a forecast for the upcoming half a year and you want to visualize it in Tableau? However, due to the read-only technology, you cannot make any changes to your data?
WriteBackExtreme is the perfect solution to help with that! It enables you to conduct forecasts, support your budgeting process and safely conduct What-If scenarios by allowing you to add or change your data! When making the changes, they are immediately reflected in the visualization and you can see their impact. Once completed, you can easily edit or delete the changes without them affecting any of your original data.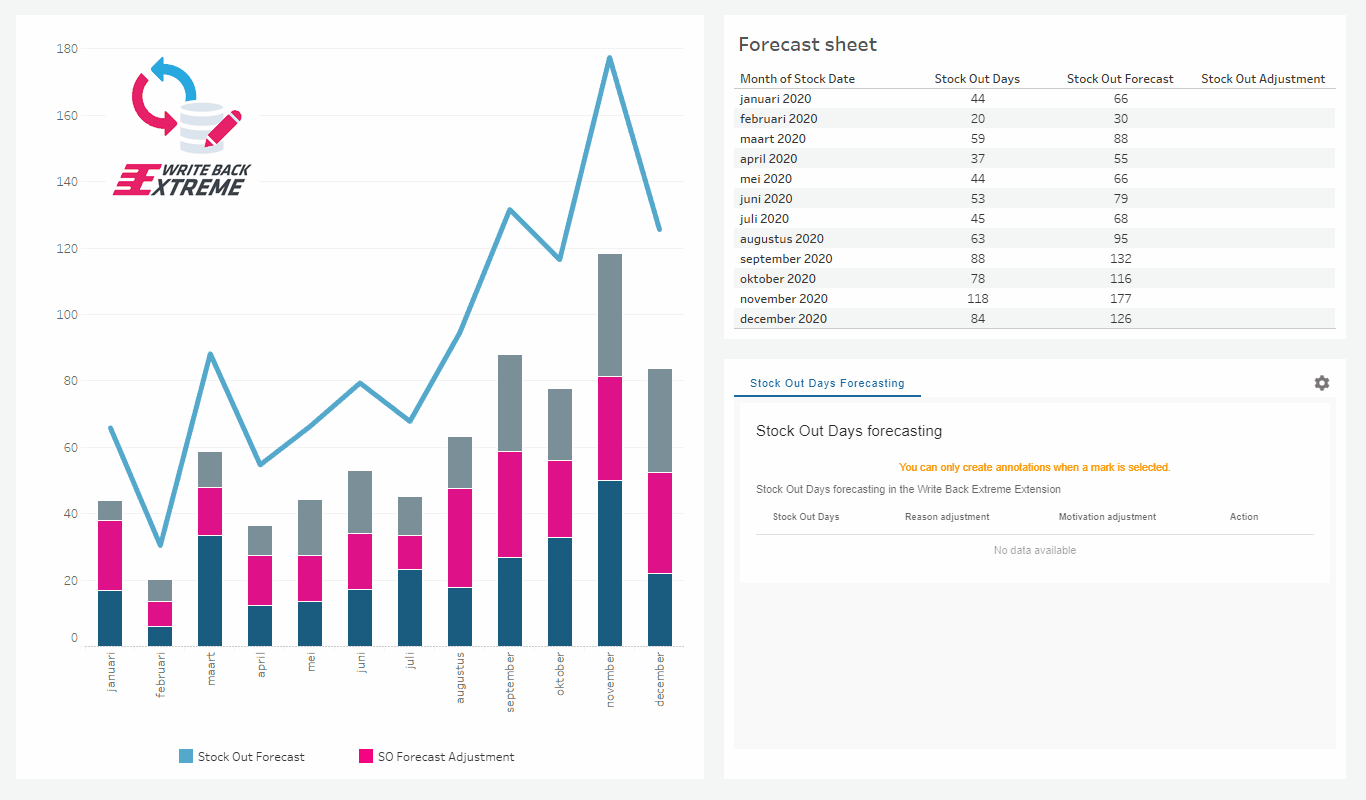 Commenting on data points  
All users that work on the dashboard can be given the permission to make changes to the data. There are situations where you look at a specific data point and you are not sure what it means. In this situation, you usually need to text your colleague and wait for their response, which slows down your workflow.
WriteBackExtreme offers a Collaboration template, which allows users to leave comments and create annotations on different data points in the dashboard. Collaboration also allows users to reply on annotations and comments, in this way, you always know what specific elements mean and you can efficiently communicate and collaborate with your colleagues, suppliers or customers.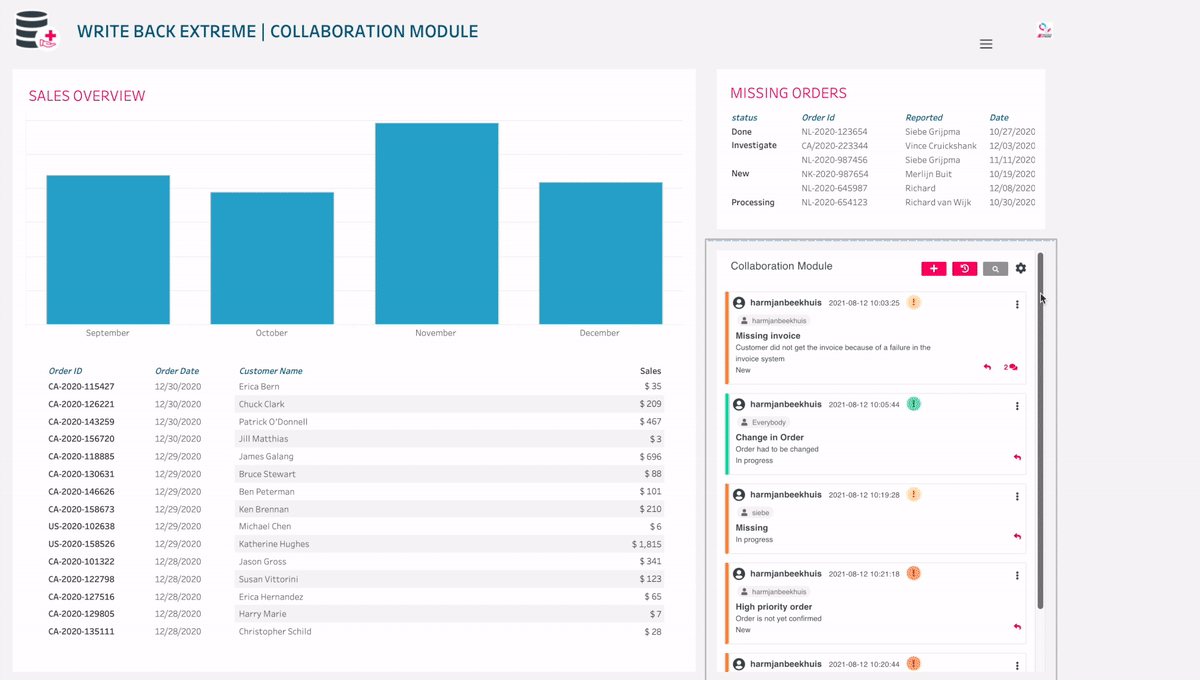 Add

, Edit & Save Data in Tableau
Add, Edit & Save Data in Tableau
WriteBackExtreme enables Zurich Insurance Company Ltd (DIFC) to create customized dashboards where data can be added directly into Tableau. Incorporating this feature into an environment which is automatically updated saves significant efforts that would have been otherwise spent on the preparation of offline tools, translating into significant time savings, more agile decision–making, and encourages collaboration between team members.
If you want to perform Excel-like functions in Tableau, SuperTables is the ultimate extension for you! It enriches your dashboards by improving your users' self-service. Your data remains under the governance of Tableau, and is always up-to-date. Some of the great features you can enjoy are:
Let your users explore the data with the option to group by specific columns.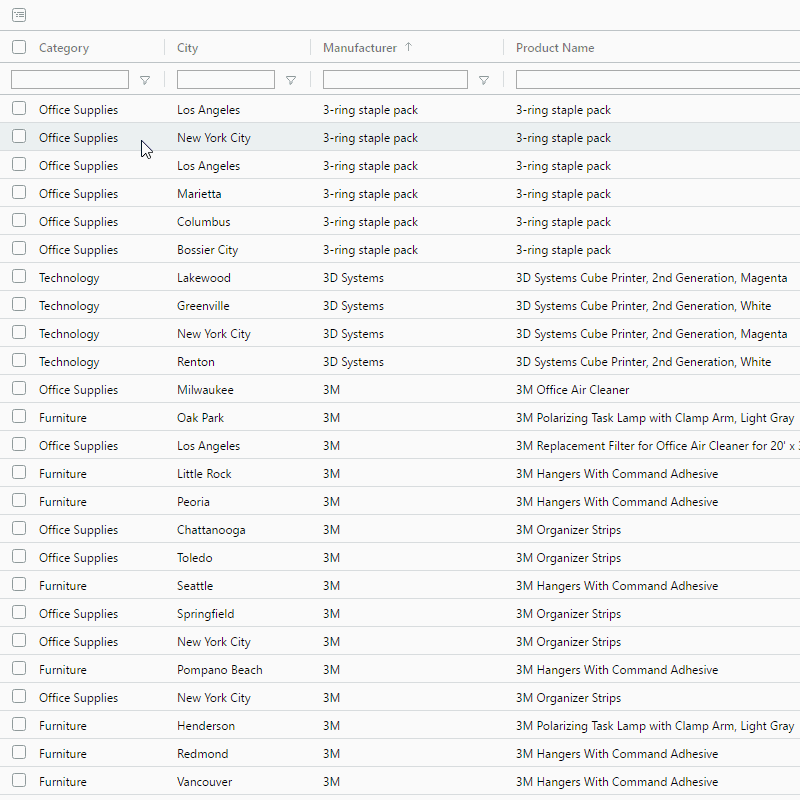 Create columns out of values by pivoting on the data right in your table!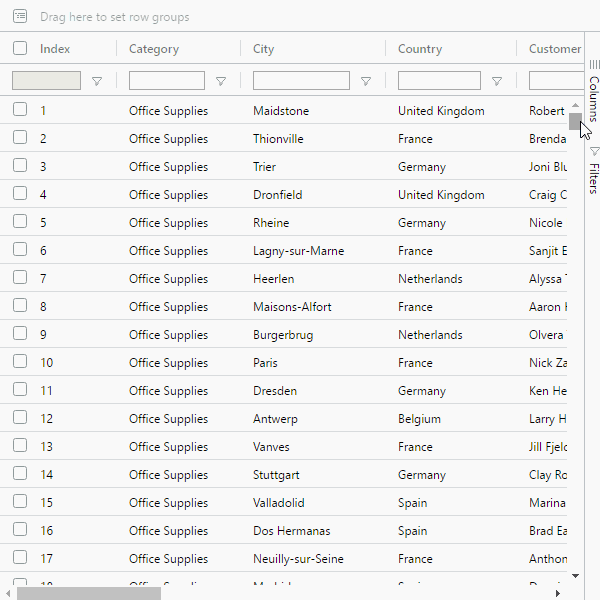 To further analyze the data, your users can add additional grids with different columns by expanding the rows.
Your calculations will be on summarized data or row level. To calculate ratios, the data has to be summarized beforehand.
Easily filter data within your columns to display what you need
Easily filter data within your columns to display what you need
Easily filter data within your columns to display what you need
Easily filter data within your columns to display what you need
Easily filter data within your columns to display what you need
Easily filter data within your columns to display what you need
If you need to move your table in Excel, you can easily export it through the extension. The styling is preserved!
If you want to flexibly drill down on your KPIs in any random order and without having to create hierarchies or multiple dashboards upfront, DrillDownTree is your extension to go! It is a great visualization tool for ad hoc exploration and conducting root-cause analysis in Tableau. DrillDownTree contributes to the self-service of your dashboards.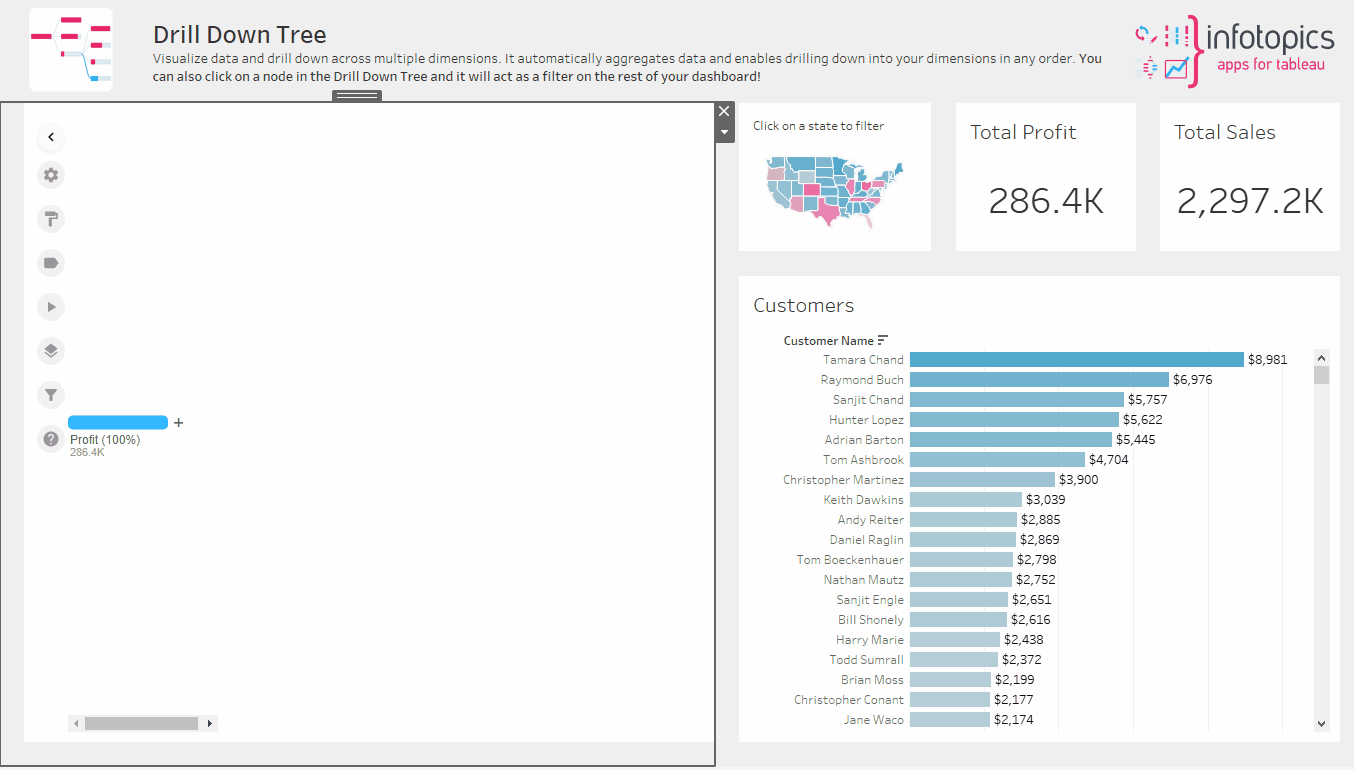 Drilling down is possible from any measure to any dimension in any random order without having to set up hierarchies or sets in advance. The extension automatically aggregates the data to the levels your dashboard users choose!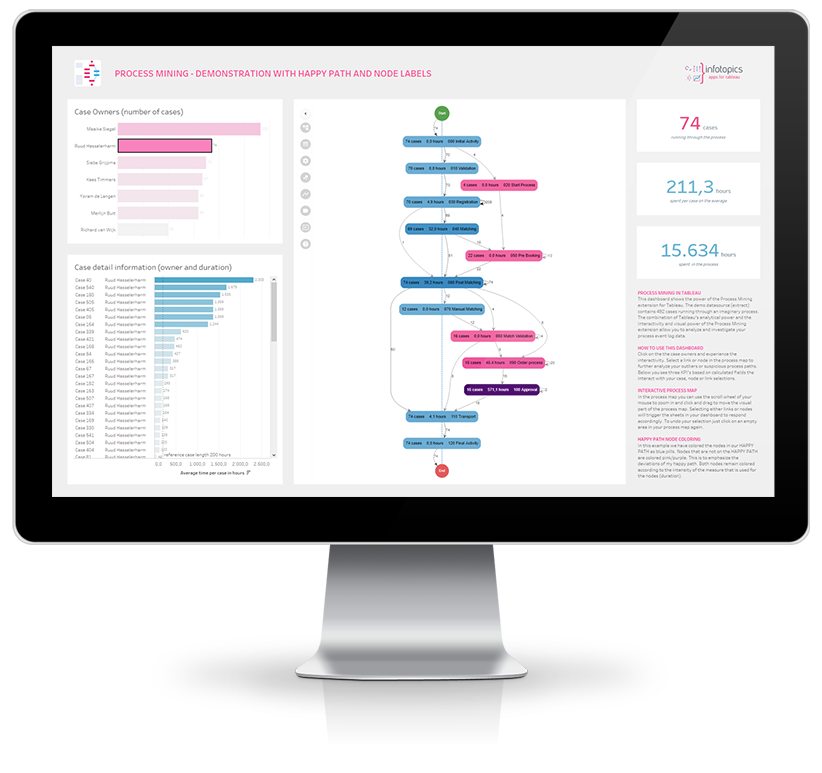 Gain insight in your business processes as they actually are
Gain insight in your business processes as they actually are
Having an incomplete picture of how your business processes are really working can lead to costly mistakes and incorrect decision-making. ProcessMining is a great tool that presents your actual processes in insightful Tableau visualizations!
ProcessMining can give you insights into all sub-processes, outliers, deviations, and process bottlenecks based on the already available cases in your process log files. The animations feature shows the case flows throughout the entire process, which enhances the insights from the visualization.
Conduct process explorations, audits, monitor, analyze, and improve your processes without having to leave the governed Tableau environment! Use the analytical power of Tableau, integrate it with the interactive ProcessMining extension and share it with your Tableau Userbase in standard published dashboards!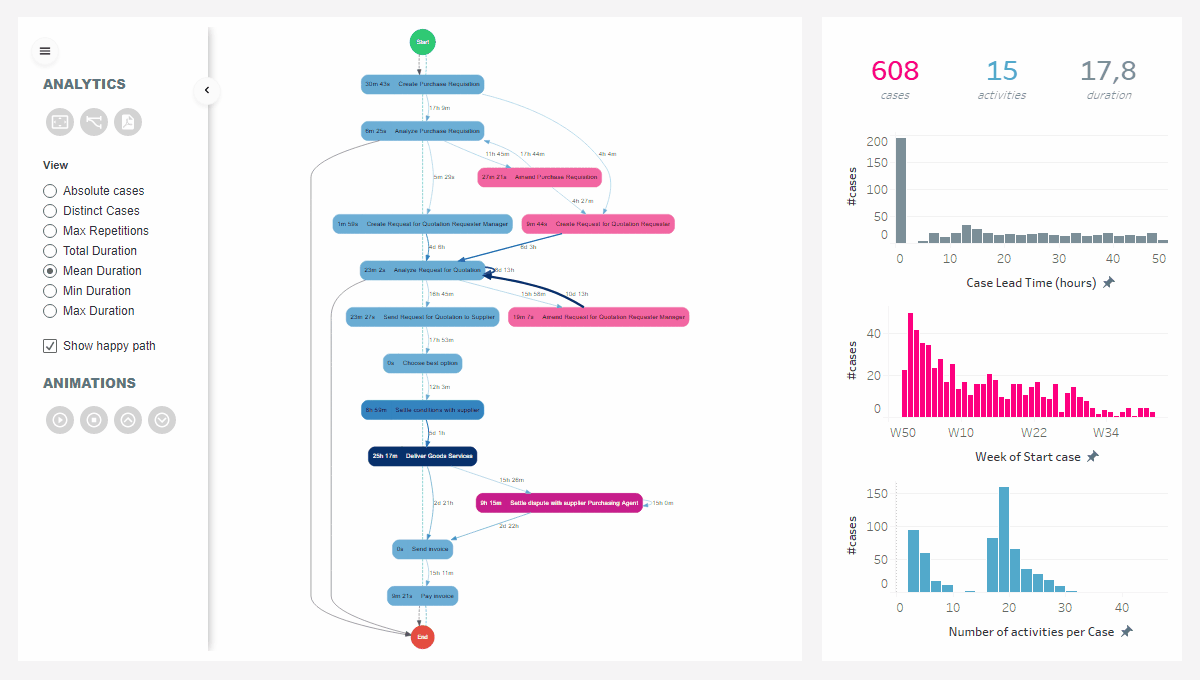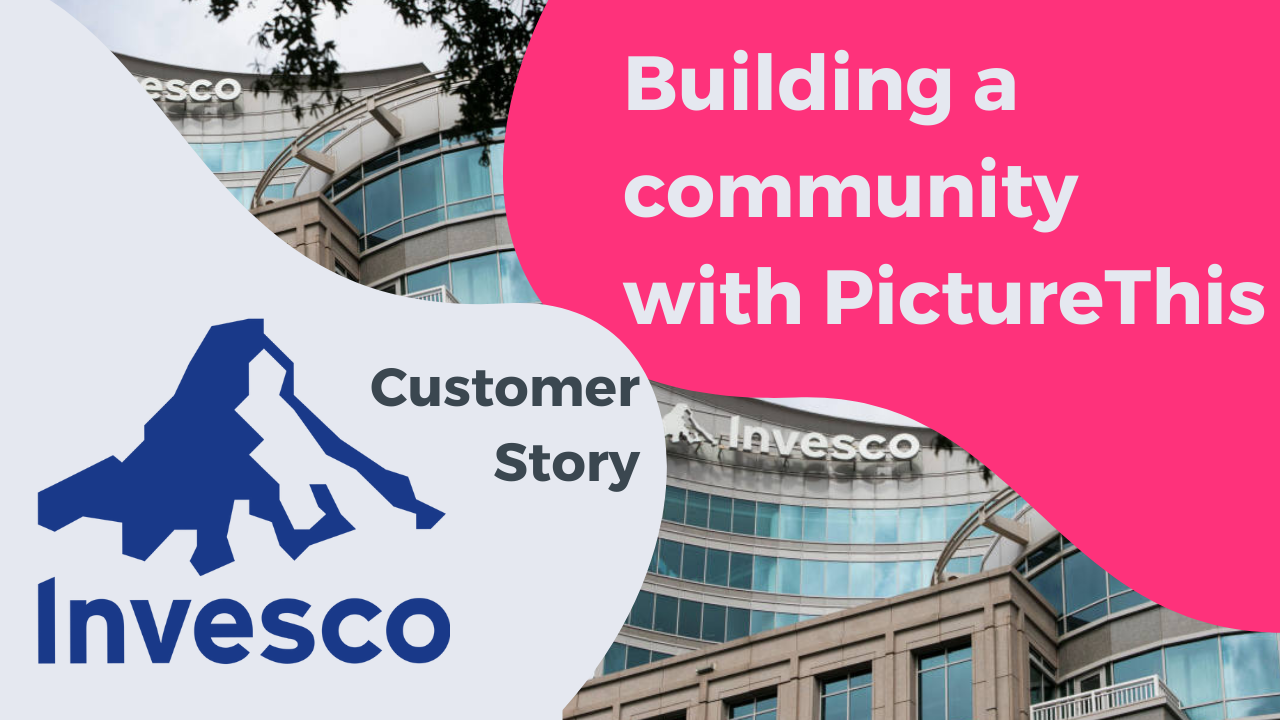 How Invesco built a community with PictureThis
The Picture This extension allows Invesco to really build that community and create a complete repository within the company. Sharing reports and data via the Greenhouse makes it more efficient to work with the data within the organization. People know where to look for information and most reports are visible for everyone!
Governed and Secure Products
All our products are secure as we comply with ISO 27001 and NEN7510. Your data and user access is secured under Tableau's governance. Our products are 100% secure on premise or private cloud deployed and facilitate your workflow in Tableau, eliminating the need to move to external programs.