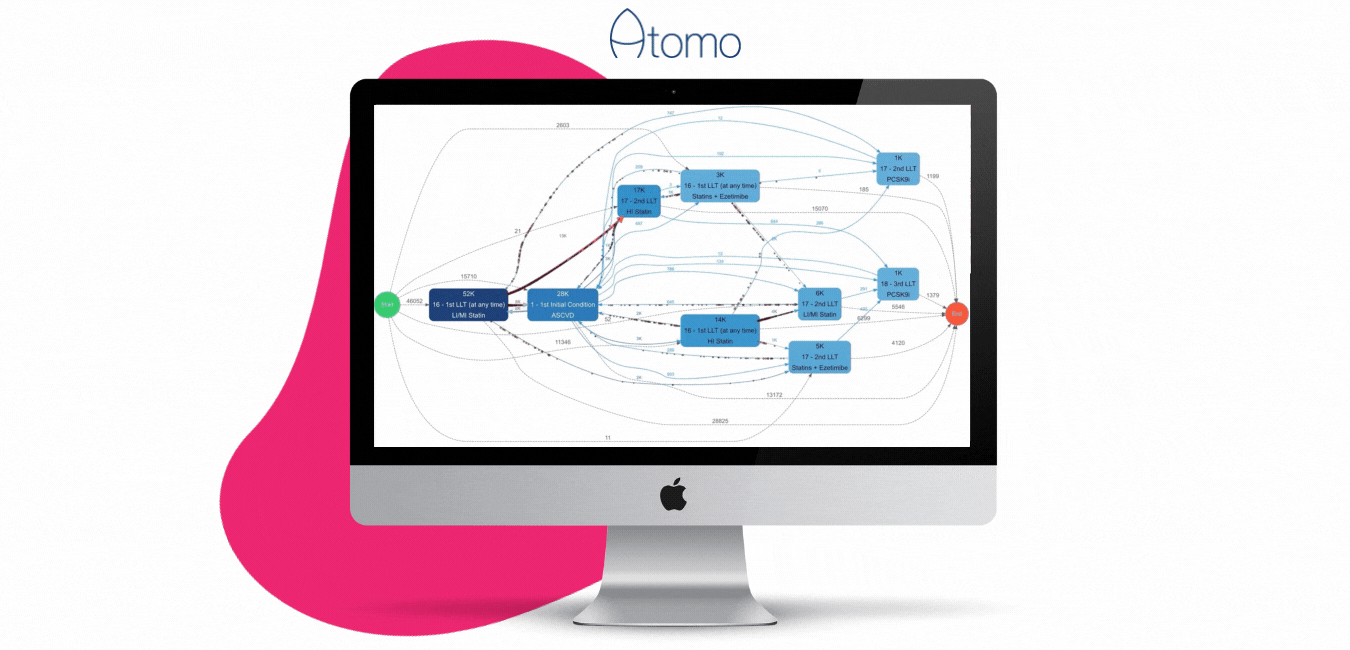 Solving the most difficult healthcare challenges using ProcessMining
The ProcessMining extension from Infotopics | Apps for Tableau enables Atomo to better visualize complex patient journeys. It also allows them to better explain how their machine learning solutions work by showing the patterns that their AI based solutions find in healthcare data. This is a major contribution to the decision-making process at Atomo.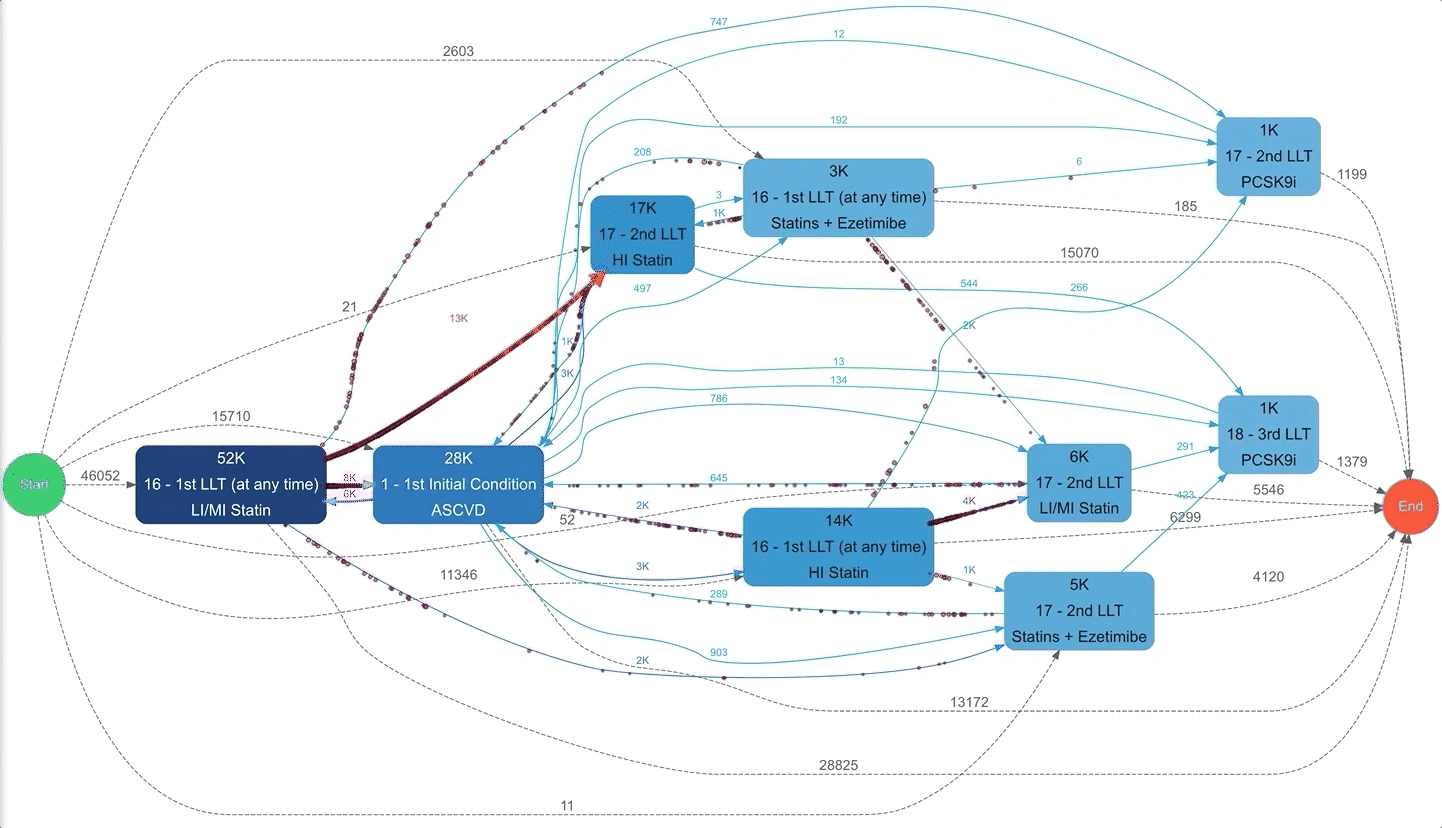 Atomo utilizes machine learning and advanced analytics to identify individuals and populations with the highest unmet medical need for a given disease or condition. They have over 30 years of experience in Healthcare, Life Sciences, and Health Economics and Outcomes Research. Their solutions focus on integrating disparate data sets in creative ways to identify the patients and populations with the highest unmet needs and to discover the optimal ways to address these needs. 
Understanding AI
Usually, there is only a high level conceptual understanding of how AI works. AI is focused on finding patterns to predict future events and if you can visually show the kind of patterns that AI is looking for to stakeholders, they develop a greater understanding and trust in technology. The ProcessMining extension allows Atomo to help people by making complex AI visually more understandable.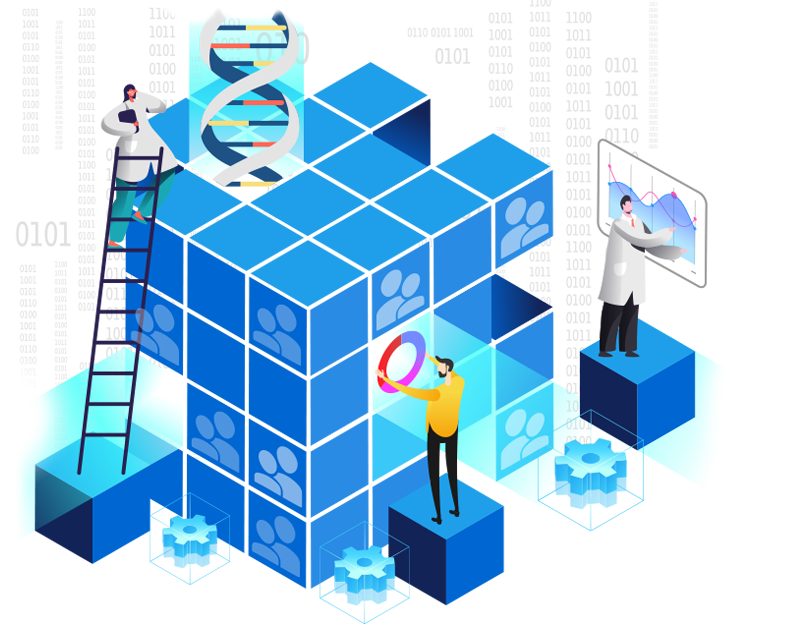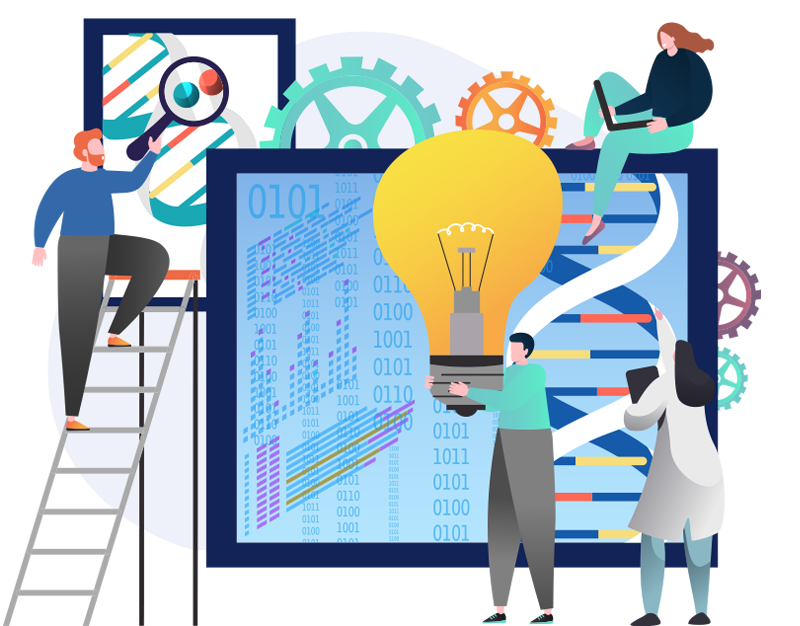 Patient Journey Analysis
Moreover, the ProcessMining extension is used to show the natural history of a disease via Patient Journey Analysis. It shows how individuals can migrate through healthcare and what happens to one group that has a relatively streamlined process to healthcare patients journeys versus another group that has a more varied journey to healthcare. Today, there is a high degree variation in most healthcare journeys. The ProcessMining extension is extremely valuable by helping to show the differences between various group's journeys and thus helps to identify optimal processes.
Sharing is caring
One of Atomo's clients, which is a pharmaceutical company, uses ProcessMining graphics in company board of directors' meetings to support directors in decision making. ProcessMining helped Atomo to communicate their  unique approach in healthcare, but it also helped their customers by lowering the barriers of complex challenges with great visualizations.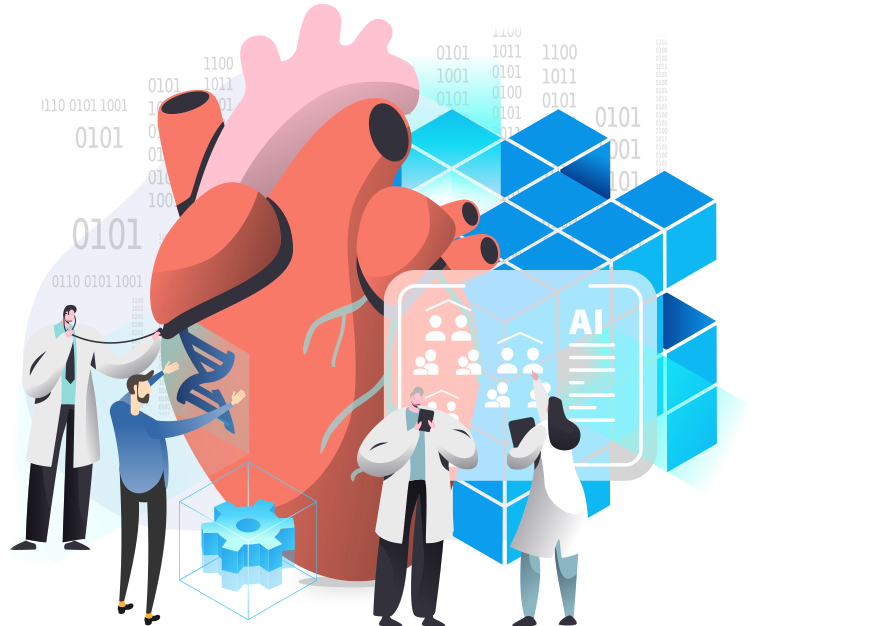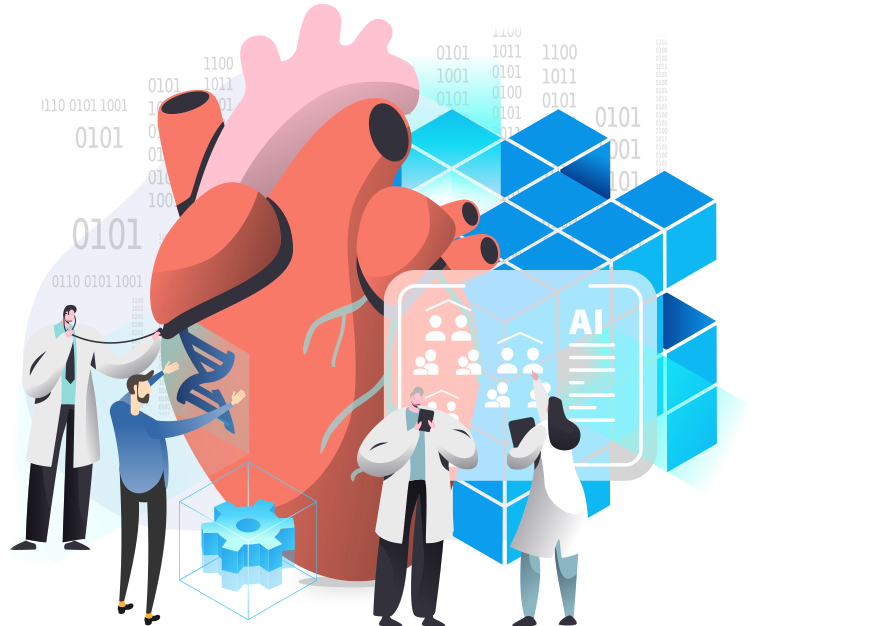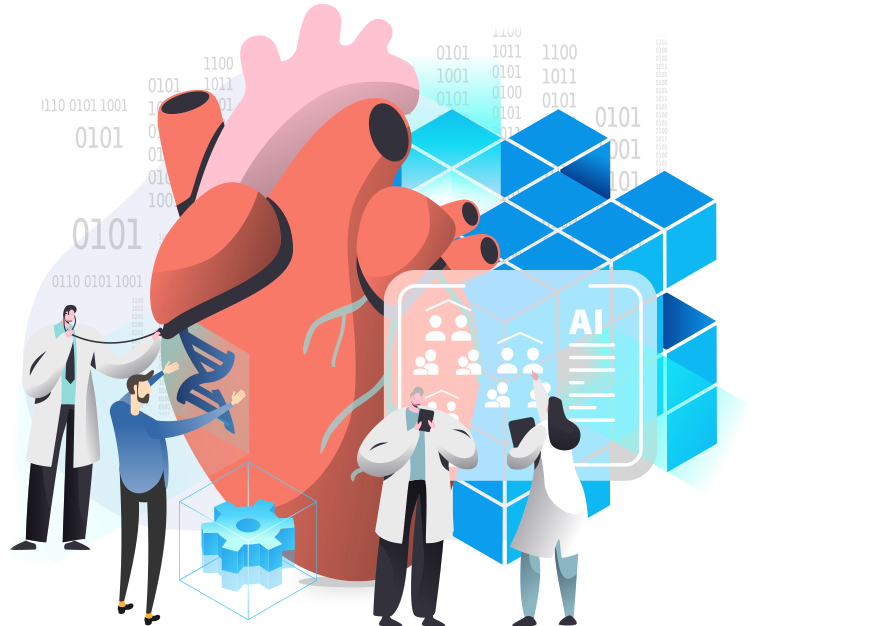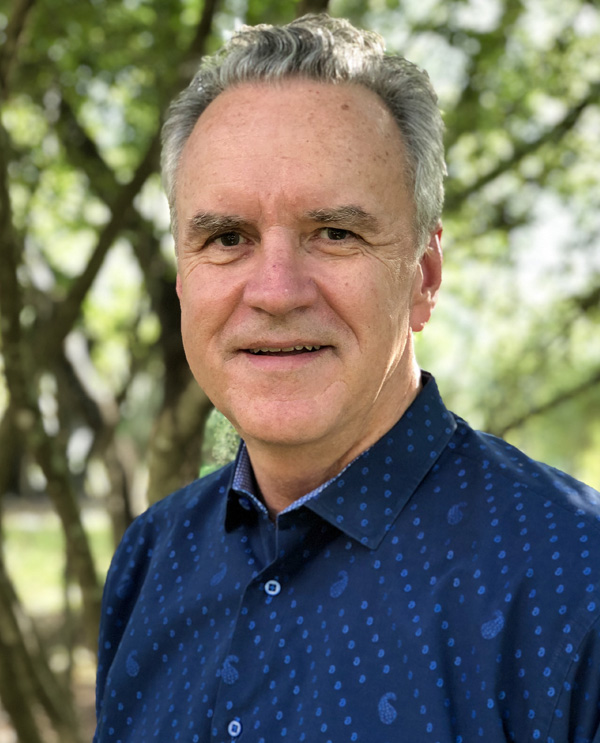 "When we show information about specific diseases or processes and stakeholders see the patterns our technologies discover, even if they don't fully understand AI, it helps them to understand and trust the output of our models."
 Kelly D. Myers – CEO & Founder Atomo
Atomo uses pretty advanced analytics. At the end of the day the output of the models could be shared in a spreadsheet, however, the advanced visualization techniques found in ProcessMining helps Atomo's clients to better understand and trust the output of the models. ProcessMining earned a crucial role making complex structures visible in great and understandable visualizations.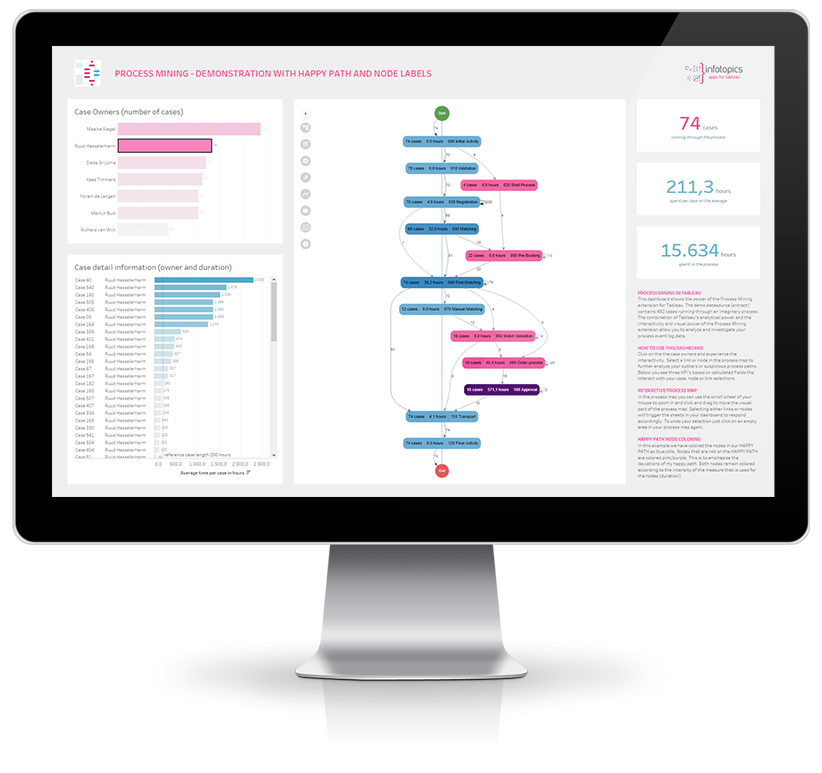 1

Govern, control and optimize your business processes

2

Quick, user friendly and fact-based

3

Get instant insight in all sub processes, outliers, deviations, process bottlenecks and more while using the interactivity of Tableau

4

Visualize the actual processes

in your organization based on your process log

files

extractions

5

Use Tableau filters to zoom in on specific cases, periods, process steps (nodes) or connections (Links) of your process to optimize or adjust your processes