Google Chrome Extension announced at
Tableau Conference 2023
At the Tableau Conference  2023 held in Las Vegas we showed what can be done with the Embedding API by having Tableau Dashboards as your Google Chrome home screen! No longer having to login to your Tableau environment to check your important dashboards, have them shown every time you open your browser!
At Tableau conference 2023 I was given the opportunity to share what our developer Yoram de Langen created using Tableau's Embedding API. I was joined on stage 8 by Wes Wu who's a senior product manager at Tableau who demonstrated amazing work from Rody Zakovich from Starschema called TabCSS & Rahul Trehan's Tableau Advisor which integrates ChatGPT in Tableau! Also before me was Anya Prosvetova from Aimpoint Digital, who's also a DataDev Ambassador and Tableau Visionary amazed us with her Asteroid Gazing with Tableau extensions and Data dictionary with Metadata API. You can find more about all of these using the QR codes at the end of my blog!
A packed audience were keen to find out what can be done using Tableaus API's, whether it's to help with their own work or curious to see the possibilities. Apps for Tableau are Tableau's leaders in Extensions using their API, but we don't stop there, our Dashboard Home Screen uses the Embedding API, Extension API and soon the REST API too!
We did THIS with Tableaus APIs
Using Tableau's Embedding API we've created a Google Chrome Extension where you can have live Tableau Dashboards and Tableau sheets as your Google Chrome home screen. The extension seamlessly integrates Tableau dashboards into your browser, eliminating the need to switch between different tools or applications. This integration ensures a smooth and uninterrupted workflow, allowing you to focus on your data analysis. Tableau Cloud, Server and even Tableau Public dashboards can be used to create your own ad-hoc home screen.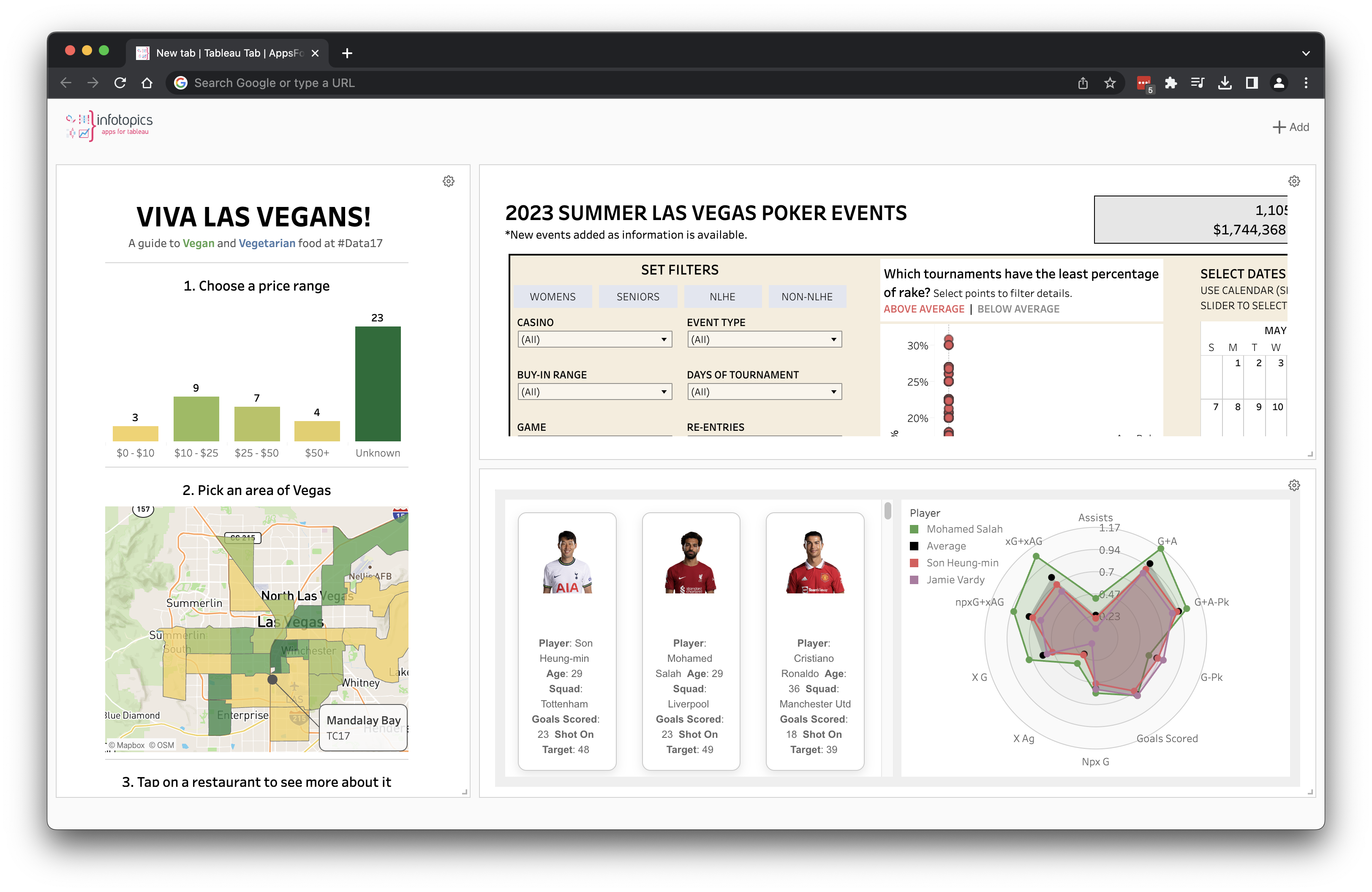 We are offering this extension for FREE! Fill out the form below to try for yourself. We would love for everyone to give it a try and hear their feedback on their experience with the extension, you can contact us at [email protected].