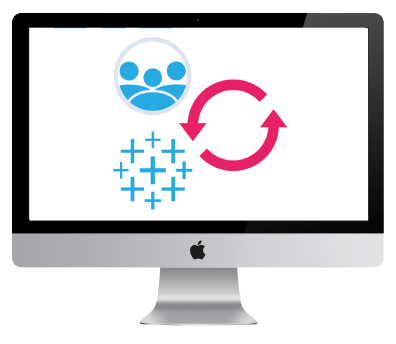 Syncronize Accounts and Groups from any Identity Store with Tableau Server – and Online
The Tableau UserSync Tool is an add-in managing your Tableau Server's or Tableau Online User Accounts, Groups and Group-Memberships.
Tableau supports several types of Authentication. Most known are 'Local Users' and 'Active Directory'. When Active-Directory (AD) is used, most of the time Tableau is able to import users from your domain-controller. Also AD-groups can be imported, including its members, and Tableau can schedule a regular synchronization with your Active-Directory. That's a good feature of Tableau Server / Tableau Online.
Almost implicitly, it is assumed that your domain-controller, with Active-Directory, resides closely to Tableau machine, in the same network segment. But the above prerequisites are not always fulfilled.
Enterprise
Billed Annually
Contact for info
Tableau Desktop – Tableau Server – Tableau Cloud
Always up to date
No internet access required
Personal Enterprise portal
On premise installation
Personal enterprise support

Questions?
Please contact me!
Governed and Secure Products
All our products are secure as we comply with ISO 27001 and NEN7510. Your data and user access is secured under Tableau's governance. Our products are 100% secure on premise or private cloud deployed and facilitate your workflow in Tableau, eliminating the need to move to external programs.